By Curtis Ross
The Tampa Tribune, October 7, 2005
---
Liz Phair wasn't surprised that her eponymous 2003 album turned off some fans.
Phair was an indie-rock darling who won acclaim for the brutal honesty and frank sexuality of her debut, 1993's Exile in Guyville. So some fans were miffed when she worked with the Matrix (Scott Spock, Lauren Christy, Graham Edwards), best known for crafting hits for Avril Lavigne, on four tracks that appeared on her fourth album, Liz Phair.
But Phair expresses surprise at criticism she saw as "a personal attack".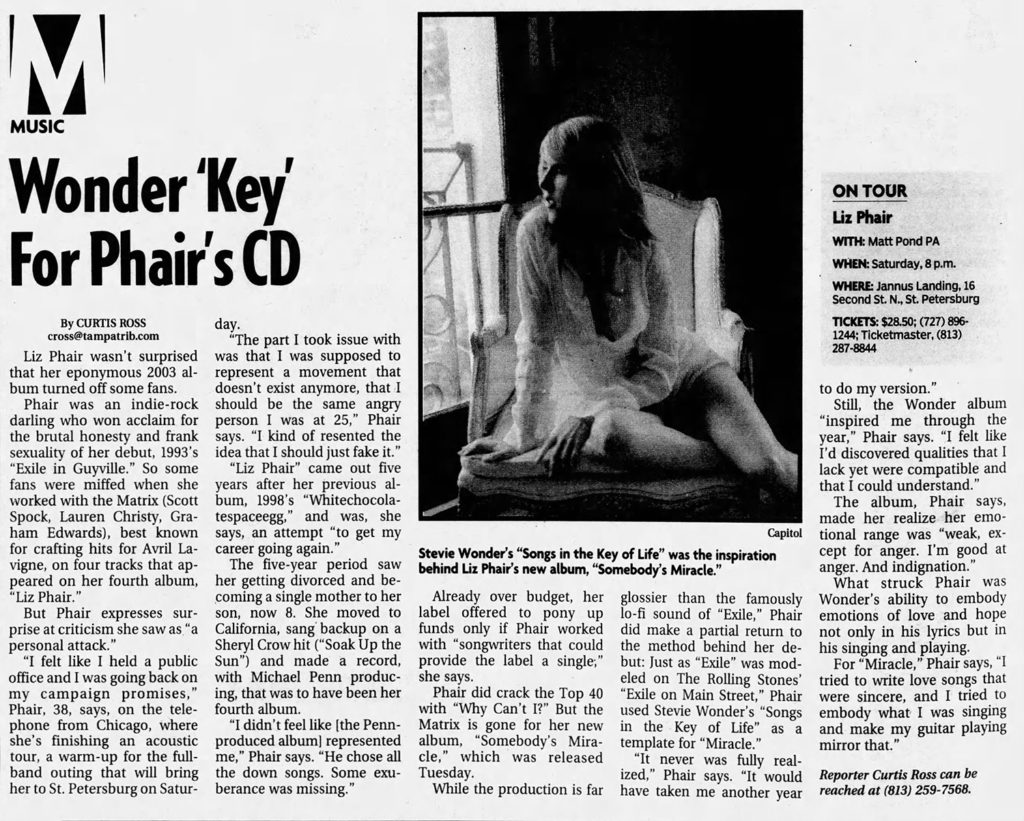 "I felt like I held a public office and I was going back on my campaign promises," Phair, 38, says, on the telephone from Chicago, where she's finishing an acoustic tour, a warm-up for the full-band outing that will bring her to St. Petersburg on Saturday.
"The part I took issue with was that I was supposed to represent a movement that doesn't exist anymore, that I should be the same angry person I was at 25," Phair says. "I kind of resented the idea that I should just fake it."
Liz Phair came out five years after her previous album, 1998's Whitechocolatespaceegg, and was, she says, an attempt "to get my career going again."
The five-year period saw her getting divorced and becoming a single mother to her son, now 8. She moved to California, sang backup on a Sheryl Crow hit ("Soak Up the Sun") and made a record, with Michael Penn producing, that was to have been her fourth album.
"I didn't feel like [the Penn-produced album] represented me," Phair says. "He chose all the down songs. Some exuberance was missing."
Already over budget, her label offered to pony up funds only if Phair worked with "songwriters that could provide the label a single," she says.
Phair did crack the Top 40 with "Why Can't I?" But the Matrix is gone for her new album, Somebody's Miracle, which was released Tuesday.
While the production is far glossier than the famously lo-fi sound of Exile, Phair did make a partial return to the method behind her debut: Just as Exile was modeled on The Rolling Stones' Exile on Main Street, Phair used Stevie Wonder's Songs in the Key of Life as a template for Miracle.
"It never was fully realized," Phair says. "It would have taken me another year to do my version."
Still, the Wonder album "inspired me through the year," Phair says. "I felt like I'd discovered qualities that I lack yet were compatible and that I could understand."
The album, Phair says, made her realize her emotional range was "weak, except for anger. I'm good at anger. And indignation."
What struck Phair was Wonder's ability to embody emotions of love and hope not only in his lyrics but in his singing and playing.
For Miracle, Phair says, "I tried to write love songs that were sincere, and I tried to embody what I was singing and make my guitar playing mirror that."
---
Featured Image: Promotional photo of Liz Phair by Dusan Reljin.