For her first album in eleven years, Liz Phair reunites with Brad Wood and returns with confidence on Soberish.
Originally planned for release in the early spring of 2020, but sidelined due to the COVID-19 pandemic, Soberish finally saw the light of day on June 4, 2021.
Fans were happy to learn that Soberish would find Phair working alongside Brad Wood again, who arguably, has been her most consistent and trusted musical partner throughout the bulk of her career, and has demonstrated he understands the nuances of making a Liz Phair record.
However, despite the fantastic news of a new album, many critics and fans were wondering what version of Phair would they receive on Soberish. Surely, Wood's involvement hinted at a nod to her earlier work, but many were hesitant to assume anything.
What critics and fans received was one of the most confident, smooth, and honest albums they had heard from Phair thus far.
Soberish benefits from a much smaller group of musicians and engineer personnel, making the album a tighter, more focused musical journey.
Originally set to tour with Alanis Morissette and Garbage to promote the new album in 2020, the pandemic shifted everything a year forward. Just two weeks before the tour was to start in 2021, Phair pulled out citing 'unforeseen circumstance,' leading many to believe the surge in COVID cases was the likely cause (though never confirmed).
Soberish
Released: June 4, 2021
Label: Chrysalis
Format: Vinyl LP, CD, Digital
Country: US, UK, Europe
Availablity: Common
All songs written by Liz Phair except "Hey Lou" and "Dosage" written by Liz Phair and Brad Wood.
"Bad Kitty" written by Liz Phair and Randy Reddig

Produced by Brad Wood at Seagrass Studios in Los Angeles, CA.
| No. | Title | Length |
| --- | --- | --- |
| 01. | Spanish Doors | 3:57 |
| 02. | The Game | 3:29 |
| 03. | Hey Lou | 2:42 |
| 04. | In There | 3:12 |
| 05. | Good Side | 2:54 |
| 06. | Sheridan Rd. | 3:27 |
| 07. | Ba Ba Ba | 3:41 |
| 08. | Soberish | 3:50 |
| 09. | Soul Sucker | 4:33 |
| 10. | Lonely St. | 3:31 |
| 11. | Dosage | 4:05 |
| 12. | Bad Kitty | 3:37 |
| 13. | Rain Scene | 0:47 |
Vocals, Guitar: Liz Phair
Guitar, Bass, Programmer, Keyboard, Drums, Percussion: Brad Wood
Guitar on "In There" and "Lonely St": Casey Rice
Mandolin on "Dosage": Marc Orrell
Percussion on "Dosage": Chick Wolverton
Barking: Kappy the Dog
Art Direction: Liz Phair
Artwork: James N. Staskauskas
Creative Director: Kathy Angstadt
Logo: Lorna Turner
Engineer:
Layout: Shea McChrystal
Photography: Eszter + David
Vinyl Variants
In addition CD and digital formats, Soberish was made available on four different vinyl variants. The grey vinyl was sold exclusively through lizphairofficial.com and was limited to 500 copies—all signed by Liz Phair. The white vinyl was labeled as an indie exclusive, and could be found through independent records stores and online. The blue vinyl is exclusive to Barnes & Noble, while the standard black vinyl is available at most vinyl locations.
As of October 2021, the blue and black vinyl versions are still widely available. Grey and white versions are only available through third-party sellers like eBay and Discogs.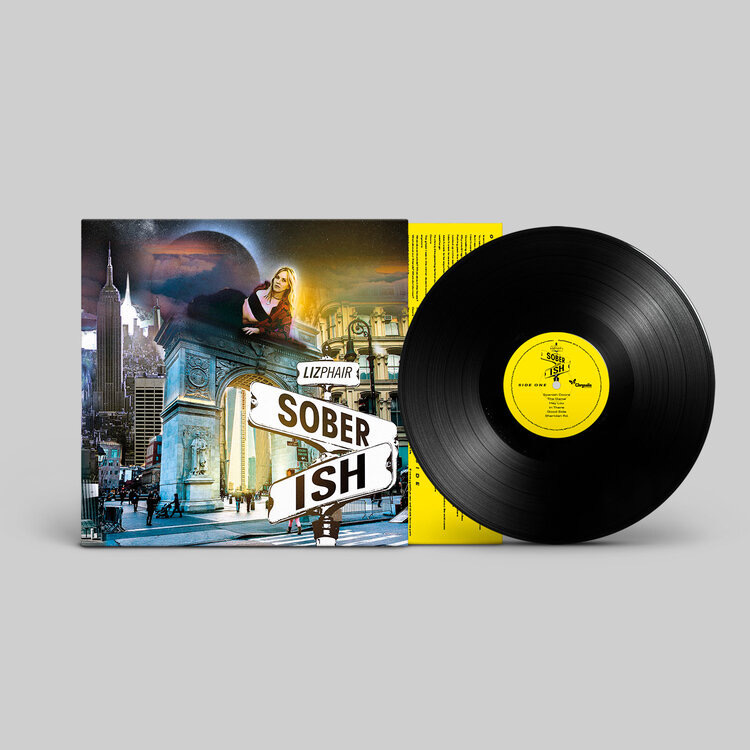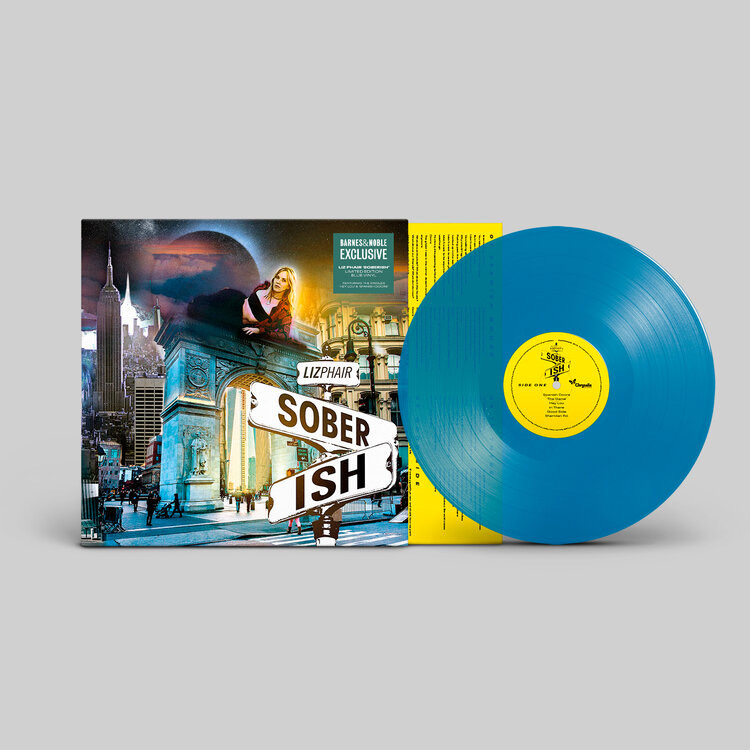 In her own words
Spanish Doors
"Anyone who's a fan of my music knows that I'm fascinated by ordinary moments in conversations that somehow take on greater significance in the larger scope of a person's life—how simply one piece of information can rock your world. And I really resonated with the idea that [my friend, whose divorce inspired the song], was in a public place when she found out that she was no longer going to be living the life that she was accustomed to. And how jumbled your internal landscape can be when you're dealing with denial—'I don't want to face this.' Bargaining, maybe there's a way out of this. Devastation, in the sense that everything's going to change and there's nothing you can do about it. The stages of grief. How can you put that into a pop song? That's the tricky challenge."
The Game
"I think most of my romance these days is amped up. It's not day-to-day, it's overly large. And sometimes I think 'The Game' is really talking about how much you need ordinariness and day-to-dayness in a love relationship. And as exciting as it is to have a kind of a dramatic affair, it gets old, you get tired. You don't want to keep resurrecting it—you want it to evolve into something more subtle. I think that surprises me."
Hey Lou
"[Lou Reed and Laurie Anderson] are icons to me. Independent of each other, they were huge influences early on in my life. I just loved both of their music when I was a teenager. Both were making groundbreaking, compelling art. And then, when they got together as a couple, it just seemed impossible: How can these two titans coexist in an ordinary life? And it was really an accidental inspiration that turned into a real sort of love letter to two challenging, difficult artists who, by all accounts, had a very peaceful, loving relationship. So, I'm fascinated."
In There
"It's like you've been saying no to someone for a while and when they start to lose interest because they've been rejected a number of times, you're like, 'Goddamn it. I miss them.' And then, you have to break in with your own inability to commit or your own inability to open yourself up to someone. Because for the longest time you could just say no, and you felt like they'd keep coming. And now you are realizing that you've said no, and it might be you that has the problem."
Good Side
"'Good Side' is my mature 'F**k and Run.' Instead of being in a pithy funk about my hookup, I can just kind of say to myself, 'Well, he got a pretty good impression of me. So, no harm, no foul.'"
Sheridan Road
"That inspiration came from a longtime partner that also grew up in the same area [in Chicago] that I did. And there's this particular road in it, Sheridan Road, that is the main artery connecting the suburbs to downtown. And every time you want to go home or any time you want to go out, you travel on this road. So, our being together on this road in the song brings up all the different life experiences that we've had. And yet, we've walked the same walk all our lives, but his life is totally different from mine. He's got special places and I've got special places. How could we have been growing up in the same place the whole time and not have been aware of each other?"
Ba Ba Ba
"I'm hooking up with someone, it's a new romance, I'm very excited about it. And in the space of a single song, it starts and is already over before it even began. I think of it as a boomerang song, because where you think it's going and the person you think I am at the beginning of the song is sort of my ambassador self, the more appealing broadly to mainstream people, like, 'I'm happy. Yay. Woo.' And then, by the end of the song, I'm back to my usual self and the relationship is already over."
Soberish
"I feel like we're all doing the best we can right now. I feel like we, as a country, have gone through a time period that was very dark and difficult and an existential threat, so to speak. So, a lot of people felt the need to stay connected with reality without actually being entirely sober. How much of reality can I stand to absorb and how much do I need to push away from me and keep myself insulated from? 'Soberish' is just a more romantic and innocent way to look at that. I used to be the kind of person that could do this sober, but right now I need a shot."
Soul Sucker
"You know when, if on a certain night, you have a hookup with someone and you like that person and it was perfectly fine, but it was just, like, that night. And then you keep running into them in your real world, and maybe they weren't the person that you would be most excited for people to see that you hooked up with. You're in your more elegant persona, and then here comes your hookup from back in the day. And you're like, 'I don't know who this is. I don't know.' Like that."
Lonely Street
"That is a very modern love song, because it sort of speaks to, yes, we can be connected by a screen, but what I really need is for you to be lying next to me, whispering in my ear. And there's a sense of sadness in the relationship, but also a sense of isolation that we get by in our modern world with a substitute for what we really need, which is actual intimacy."
Dosage
"I think of it as a modern-day 'Polyester Bride' in that I wrote it with the idea of going back to that bar, where Henry the bartender gave me all that good advice when I was young, and coming back as an older woman and seeing a young woman who is basically in the position I used to be in. So, I'm now looking at myself in the younger person who's wasted, giving her advice, but also saying, 'By the way, you're doing fine. Nobody has it all together. Even now, at my age, none of those decisions were even the impactful ones.'"
Bad Kitty
"'Bad Kitty' is just embracing the mess that is my life. It's an ongoing theme I have that I will always be out of place no matter where I go or who I try to be. And the manifestos that people think that I have, or that I have the answers, I really don't. At the end, it's the poem of just no helmet, no brake, no net, no rope, no more cocaine. You don't really believe that I'm never going to do those things, do you? That's really a kind of a throwing your hands up: I am a bad kitty. To this world, that's how I am perceived. That's how I identify myself as. It's not such a bad thing, really—I get nine more lives. But at the same time, it doesn't all make sense. It's my emotional state and that's how I make art. And it doesn't always have to make sense. One thing does not have to be like, 'Now I will never do this, and now I will do this.'"
Rain Scene
"I was here in my house, and I had bought a 3D microphone thing that I can put on my ears that will record surround sound of whatever space I'm in. And I knew I wanted the approaching storm of 'Sheridan Road' to break. I wanted the storm to actually release at the end of the album. So, this unexpected rain happened here in Southern California, and I just practically threw clothes on and threw this thing on. And I was, like, yelling to my son, 'I'm going out in the rain! I'm going to record the rain!' And I just stomped up and down the street around my house, recording puddles and me splashing in puddles. And I had Brad edit it in such a way that it took on a flavor of synthesizer of manipulated sounds at the end, and then I wrote a little song about it."
Related Articles
Videos
Hey Lou
Director: Toben Seymour
Producers: Kathy Angstadt and Toben Seymour
Puppet Design and Build: Toben Seymour and Seymour Creations
Puppetry: Toben Seymour and Christine Papalexis
Puppet Costume Design: Michele Dunn, Lauren Barnet, and Alison Mork
Camera Operator: Shaun Wolfe
Released: February 9, 2021
"Hey Lou" was chosen as the second single for Soberish, more than a year after "Good Side."
---
Spanish Doors
Director:
Released: April 30, 2021
"Spanish Doors" serves as the third single from Soberish, released on April 30, 2021. Unlike any of the other singles from the album, "Spanish Doors"
---
In There
Director: Katia Temkin
Released: May 11, 2021
"In There" is the fourth single from Soberish released on May 11, 2021.
The video for "In There" was created as an animated lyric presentation by Katia Temkin (katiatemkin.com)
---
The Game
Director: Angela Kohler
Producers: Angela Kohler and Kathy Angstadt
Released: June 3, 2021
"The Game" was the fifth and final single from Soberish, released the day before the full album was available. The song was one of the earlier songs written, as Phair had performed in various shows as early as 2018.
Like the previous singles, no physical copy was available, but a music video was released.
Fun Facts
On its initial pressing, the spine for LP releases all have a typo, depicting Chrysalis Records as "Chrysalos Recprds Limited."
"Good Side" is the only single from Soberish that didn't have a dedicated video created for it.
"Good Side" and "Hey Lou" are the only two singles for which there was specific artwork created for its release.
All five singles from this release were released only in digital format.
Soberish is the first album that Brad Wood ever produced integrating Dolby Atmos. Read more ›
Related Releases
---