By Carol Hilker for RedEye
Chicago Tribune, January 20, 2011
---
Liz Phair won't let anyone get in the way of her evolution as an artist—least of all a record label. So when her latest album, "Funstyle," led to a split with ATO Records, Phair released the album anyway—rap song and all.
"I was really, really, really [bleeping] pissed," Phair, who was raised in the Chicago area, recently told RedEye. "I had sat on this album for 13 months and I wasn't having it. I was like, 'No, no, no.' I am not kidding. And I wanted to put it out, so I did."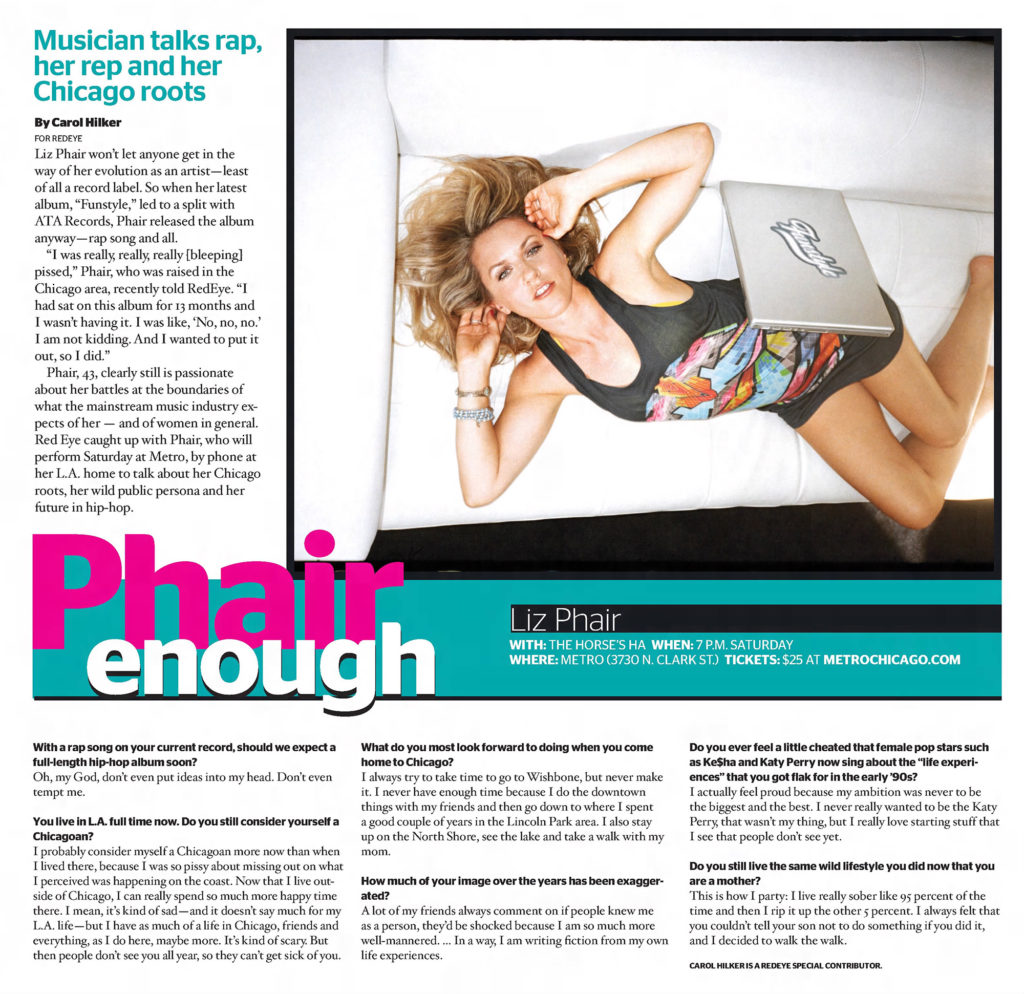 Phair, 43, clearly still is passionate about her battles at the boundaries of what the mainstream music industry expects of her—and of women in general. RedEye caught up with Phair, who will perform Saturday at Metro, by phone at her L.A. home to talk about her Chicago roots, her wild public persona and her future in hip-hop.
With a rap song on your current record, should we expect a full-length hip-hop album soon?
Oh, my God, don't even put ideas into my head. Don't even tempt me.
You live in L.A. full time now. Do you still consider yourself a Chicagoan?
I probably consider myself a Chicagoan more now than when I lived there, because I was so pizzy about missing out on what I perceived was happening on the coast. Now that I live outside of Chicago, I can really spend so much more happy time there. I mean, it's kind of sad—and it doesn't say much for my L.A. life—but I have as much of a life in Chicago, friends and everything, as I do here, maybe more. It's kind of scary. But then people don't see you all year, so they can't sick of you.
What do you most look forward to doing when you come home to Chicago?
I always try to take time to go to Wishbone, but never make it. I never have enough time because I do the downtown things with my friends and then go down to where I spent a good couple of years in the Lincoln Park area. I also stay up on the North Shore, see the lake and take a walk with my mom.
How much of your image over the years has been exaggerated?
A lot of my friends always comment on if people knew me as a person, they'd be shocked because I am so much more well-mannered. …In a way, I am writing fiction from my own life experiences.
Do you ever feel a little cheated that female pop stars such as Kesha and Katy Perry now sing about the "life experiences" that you got flak for in the early '90s?
I actually feel proud because my ambition was never to be the biggest and the best. I never really wanted to the Katy Perry, that wasn't my thing, but I really love starting stuff that I see that people don't see yet.
Do you still live the same wild lifestyle you did now that you are a mother?
This how I party: I live really sober like 95 percent of the time and then I rip it up the other 5 percent. I always felt that you couldn't tell your son not to do something if you did it, and I decided to walk the walk.
---
Feature Image: Liz Phair (Photo: Darren Ankenman)