---
By Derek Donovan
The Kansas City Star, June 24 2003
Liz Phair has always had a tough time fitting into categories.
Her 1993 debut on Matador, "Exile in Guyville," was a startling revelation for the still-nascent world of '90s alternative rock. At once confident and vulnerable, accomplished and amateurish, "Exile" was a remarkable debut from a quirky songwriter who didn't seem to be wearing her eccentricity and sexual frankness as a costume. The low-fi masterpiece landed atop many best-of lists that year, and it still shines as one of the true standouts from the decade.
Yet Phair didn't win everyone over. The album's title referred to her isolation from the boy's club mentality of the indie-rock scene, particularly in her hometown of Chicago. Some of the intolerant arbiters of hipster taste, like the famously nasty Steve Albini, derided Phair as a poseur with neither cred nor convictions. Her high profile in the press, and subsequent migration to Capitol Records, solidified the naysayers' disdain.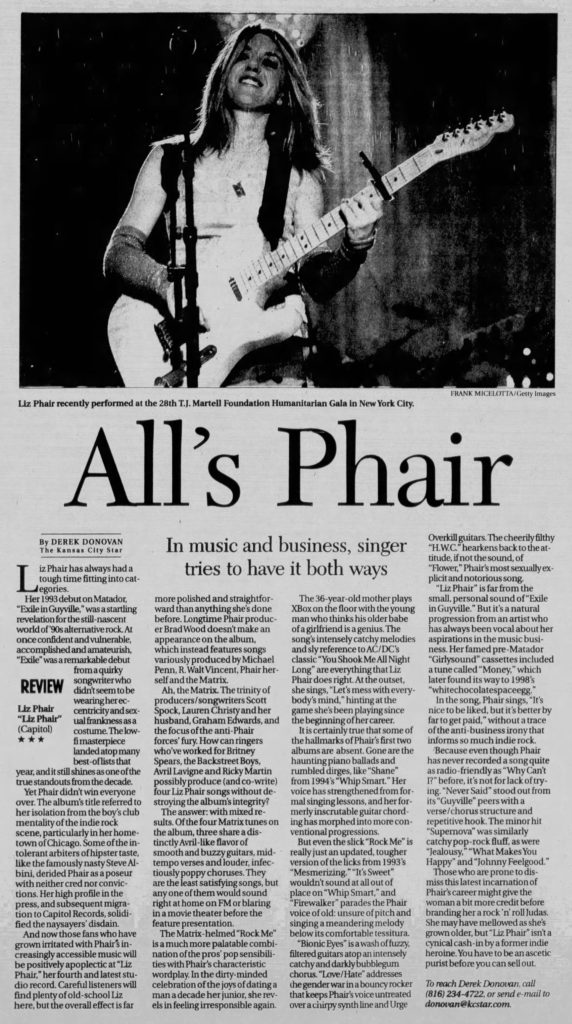 And now those fans who have grown irritated with Phair's increasingly accessible music will be positively apoplectic at "Liz Phair," her fourth and latest studio record. Careful listeners will find plenty of old-school Liz here, but the overall effect is far more polished and straightforward than anything she's done before. Longtime Phair producer Brad Wood doesn't make an appearance on the album, which instead features songs variously produced by Michael Penn, R. Walt Vincent, Phair herself and the Matrix.
Ah, the Matrix. The trinity of producers/songwriters Scott Spock, Lauren Christy and her husband, Graham Edwards, and the focus of the anti-Phair forces' fury. How can rings who've worked for Britney Spears, the Backstreet Boys, Avril Lavigne, Ricky Martin possibly produce (and co-write) four Liz Phair songs without destroying the album's integrity?
The answer: with mixed results. Of the four Matrix tunes on the album, three share a distinctly Avril-like flavor of smooth and buzzy guitars, mid-tempo verses and louder, infectiously poppy choruses. They are the least satisfying songs, but any one of them would sound right at home on FM or blaring in a movie theater before the feature presentation.
The Matrix-helmed "Rock Me" is a much more palatable combination of the pro' pop sensibilities with Phair's characteristic wordplay. In the dirty-minded celebration of the joys of dating a man a decade her junior, she revels in feeling irresponsible again.
The 36-year-old mother plays Xbox on the floor with the young man who thinks his older babe of a girlfriend is a genius. The song's intensely catchy melodies and sly reference to AC/DC's classic "You Shook Me All Night Long" are everything Liz Phair does right. At the outset, she sings, "Let's mess with everybody's mind," hinting at the game she's been playing since the beginning of her career.
It is certainly true that some of the hallmarks of Phair's first two albums are absent. Gone are the haunting piano ballads and rumbled dirges, like "Shane" from 1994's "Whip-Smart." Her voice has strengthened from formal singing lessons, and her formerly inscrutable guitar chording has morphed into more conventional progressions.
But even the slick "Rock Me" is really just an updated, tougher version of the licks from 1993's "Mesmerizing." "it's Sweet" wouldn't sound at all out of place on "Whip-Smart," and "Firewalker" parades the Phair voice of old: unsure of pitch and singing a meandering melody below its comfortable tessitura.
"Bionic Eye" is a wash of fuzzy filtered guitars atop an intensely catchy and darkly bubblegum chorus. "Love/Hate" addresses the gender war in a bouncy rocker that keeps Phair's voice untreated over a chirpy synth line and Urge Overkill guitars. The cheerily filthy "H.W.C." hearkens back to the attitude, if not the sound, of "Flower," Phair's most sexually explicit and notorious song.
"Liz Phair" is far from the small, personal sound of "Exile in Guyveill." But it's a natural progression from an artist who has always been vocal about her aspirations in the music business. Her famed pre-Matador "Girlysound" cassettes included a tune called "Money," which later found its way to 1998's "whitechocolatespaceegg."
In the song, Phair sings, "It's nice to be liked, but it's by far to get paid," without a trace of the anti-business irony that informs so much of indie rock.
Because even though Phair has never recorded a song quite as radio-friend as "Why Can't I?" before, it's not for lack of trying. "Never Said" stood out from its Guyville" peers with a verse/chorus structure and repetitive hook. The minor hit "Supernova" was similarly catchy pop-rock fluff, as were "Jealousy," "What Makes You Happy," and "Johnny Feelgood."
Those who are prone to dismiss this latest incarnation of Phair's career might give the woman a bit more credit before branding her a rock 'n' roll Judas. She may have mellowed as she's grown older, but "Liz Phair" isn't a cynical cash-in by a former indie heroine. You have to be an ascetic purist before you can sell out.
---
Featured image: Liz Phair performing at the T.J. Martell Foundation Humanitarian Gala at the New York Hilton on June 2, 2003. Photo by Frank Micelotta.