By Tyler Coates, Senior Culture Editor
Esquire.com, June 15, 2018
---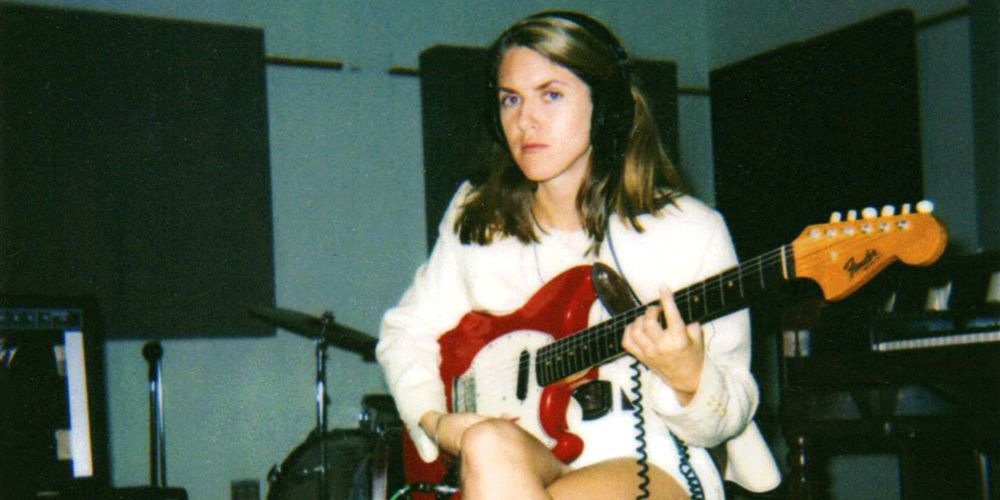 Once the cheers died down after she walked on stage at Chicago's Empty Bottle, Liz Phair beamed a giant smile under the blue stage lights, threw her hands into the air, and shouted, "I'm home!"
Twenty-five years after the release of her debut album Exile in Guyville, which saw a deluxe reissue in May and celebrates its anniversary this month, the singer-songwriter was back to the place where Guyville began—quite literally, as the title referenced the formerly grimy streets of Wicker Park, just one neighborhood away from the club that Pitchfork once described as "the last great indie rock dive bar standing."
Saturday marked the final night in the Girly Sound to Guyville tour, a string of eight dates pegged to Matador's reissue of her debut album. The seven-record Girly Sound to Guyville box set includes Guyville plus remastered editions of Phair's Girly Sound tapes, her early bedroom recordings that were passed around and eventually made their way to the seminal indie label. Many of the songs on those raw tapes were re-recorded for Phair's first album (as well 1994's Whip-Smart and 1998's Whitechocolatespaceegg), and in the two decades since have floated around on the internet, along with other demos and rarities, thanks to Liz Phair fans and archivists.
Phair plunged immediately into one of those early tracks at the top of her set: "Fuck or Die," a funny and aggressive love song of sorts that plays with the tune of Johnny Cash's "Walk the Line." Her smile was still visible as she sang the lyrics (which included lines like "You're going down on me, even if it kills you" and "I'm going to give it you head, even if you die"), and there were plenty of people in the audience who sang along, even though the song was never officially released.
I was one of them. It was hard to believe I was seeing Liz Phair at the Empty Bottle on a Saturday in 2018—both because of its intimate space and the hallowed ground this Chicago dive bar held for this high priestess of '90s indie rock. A quarter-century earlier, in 1993, Phair surged into the spotlight with Guyville. Within months, Phair went from kicking around Wicker Park to the cover of Rolling Stone, which announced, with the subtlety of Phair's own songwriting during that period, "A Rock & Roll Star Is Born."
At the Empty Bottle on Saturday, a room full of a few hundred strangers, who sang alone to both the hits and the deep cuts, welcomed Phair home again. And I, too, had returned to Guyville, ushering back all of the feelings and memories I can't untangle from the songs I've listened to on a loop for more than a decade.
"I'm getting a little more nostalgic and sentimental these days," Phair told me over the phone in April, and it's completely understandable why: She was, after all, stuck squarely in the past. Our interview was one of dozens she was taking ahead of the Guyville reissue, and she was deep into her archives relearning some of her songs—either the ones she hadn't played before an audience in decades, or the Girly Sound versions of her most famous tracks, like "Polyester Bride," "Never Said," and "Fuck and Run." She was willfully forcing herself to interrogate the young woman she was long ago—a young woman who had evolved several times since into the Liz Phair she is today.
That's precisely the Girly Sound tapes' appeal. I discovered them after joining a Phair fan listserv called Support System a few months after hearing (and becoming obsessed with) Exile in Guyville in college in 2001. (I was late to Liz Phair, primarily because I was ten years old when Guyville was released.) Hearing those scattered recordings, downloaded from sketchy early-aughts file sharing sites, felt like unlocking a door and discovering an artist's origin story. They were raw, unpolished, and weird; there were versions of the songs that made up Guyville. On some of them, Phair sang in a higher pitch; on others, she sang multiple verses, and the songs went on for forever.
I told her that the songs felt like the director's cut version of what eventually became Guyville ("Something for a superfan," I said, "as not everyone might want to watch a four-hour version of David Fincher's Zodiac"), to which she replied, "Let's get this out of the way: I am not a fan of the director's cut. Some of them are just egregious."
Who wouldn't look back at their college-age juvenilia and recoil with embarrassment? You might forgive Phair for rejecting a few of those tossed-away songs (those that didn't end up on a record, probably for a reason); she was, as she told me, just goofing around without any intention whatsoever to become a musician. But here's the thing: As rough as they are, the songs are good. They earned her attention for a reason, and represent a young artist as she was figuring herself out and honing her craft.
"These were never supposed to be heard by anyone," Phair told me, but not necessarily with a tone of resentment.
Fans were drawn to them for a reason: The songs, after some editing, turned into one of the great albums of the 20th century. The lo-fi tracks give some insight to her own creative process. She was just fucking around, playing guitar and singing lines that could have gone into a journal. But they represent, as a three-tape collection, the sensibilities of her formally released work: idiosyncratic, provocative, funny, and sexy all at once.
Despite the original intention to toss these recordings, Phair told me she's glad her fans kept them alive. "I don't keep track of stuff, but I've become more sentimental lately," she said, admitting that she would often Google herself to rediscover her past and listen to those old songs. "It's when I want to pay the What's In My Closet game," she said. "I would just YouTube them like everyone else. I've spent time with them a lot over the years." (She relied on her fans at the Empty Bottle, too. "If anyone can remember the last time I played here," she laughed, "please come to the front and let me know.")
A 25th anniversary reissue—and a general '90s nostalgia resurgence—is excuse to break Girly Sound out of its vault. Looking back, at least for Phair, means recognizing a young woman before she earned indie rock notoriety. "I think what's most evocative is that lack of self-consciousness," she said. "It's the first and last time that I have on record before I had a public awareness of what I represented to other people. There's me, and then there's Liz Phair."
"It's the first and last time that I have on record before I had a public awareness of what I represented to other people. There's me, and then there's Liz Phair."
The dueling identities—the public and the private—are tough to pull apart for your average listener. Most of Phair's work feels brutally honest and unfiltered; Guyville, released when she was 26, remains notorious for its frankness. She sang about messy hookups on "Fuck and Run," the inevitability of a breakup on "Divorce Song," bemoaned the behavior of obnoxious men on "Johnny Sunshine" and "Help Me Mary," and growled the declaration "I want to be your blowjob queen" on "Flower." When Phair sang her lyrics, you believed they were her truth. That's never more powerful than on the Girly Sound recordings, which are playful and intimately confessional.
The personal nature of her work is, naturally, what has drawn listeners to Guyville for the last 25 years—and why the retrospective to the album and its origins have been so rewarding for both the singer-songwriter and her fans. For so many, the album is formative. Its frank lyrics, while infamous, are also incredibly empowering.
Lately, I've been wondering what drew me to the record when I first heard it as an 18-year-old man. At the time, there was no fucking from which to run, and I hadn't yet experienced a breakup. But something about the songs was incredibly relatable, almost as if I knew that Phair was preparing me for the realities of the world—which would be both disappointing and joyful, affirming and demoralizing. All of it would happen with or without me, so I might as well play along.
I asked Phair what she hears when she listens to Girly Sound and Guyville today. "I have so much confidence coming through my voice," she replied. "I think I have much less authority in my voice now than I did then. It's probably an overcompensation for an inexperience. I'm fascinated by that person. I don't even know where she got that or what made her think she could do this."
"I think I have much less authority in my voice now than I did then. I'm fascinated by that person. I don't even know where she got that or what made her think she could do this."
The blissful arrogance of youth comes through in those early works, and that's probably why Phair cringes at the idea that these unedited songs are still passed around today. But the evolution in her career, her songwriting, her voice has always struck me—as a listener and a big fan—as so human and delightful.
"You get more guarded as you grow up," I said, theorizing through my own lens as to what she was reflecting. "It seems like a natural progression—you have to keep growing up, even after you become a grownup."
Phair seemed to agree. "Back then, I wasn't curious about what other people were doing much at all," she told me. "I was very interested in what I was doing—and I was very certain about it. Today, I'm more careful about assumptions."
That's the sort of thing that happens when you're a person in the spotlight (and especially if you are a woman). But it's also just a thing that everyone has to deal with, isn't it? Managing the expectations of others—your family, your friends, your colleagues, your critics. Exile in Guyville is a wild sonic document about rejecting that, one that only a 26-year-old could accomplish. It's an album about being young and sure of yourself, produced by an artist who continued to look inward as she moved throughout the world and learned that maybe she wasn't getting it exactly right each time.
Throughout the years, I've been astonished that what Liz Phair predicted for me came true. She was the older sister I never had (and the one I desperately wanted); she taught me pretty much everything—what it means to be a human in the world, to desire love and sex and search for it (and sometimes regretting the complications that arise from both). As she looked back at the past, at her origin story, I can't help but look back at my own youth and reexamine the wild and unwise life I lived that led me to the place I am today.
As I stood in the crowd at the Empty Bottle—feeling complete joy not just because I was watching Phair sing those old songs with so much glee, but also because I was surrounded by a few hundred people who sang along with her to songs I had listened to alone—I felt an overwhelming urge to register that moment and cherish it because I will likely never experience it again. It was a wonder, to be in that tiny room, which carried all of the symbolism associated with the time and place of Guyville, and see the artist who shaped my worldview so distinctly.
"Okay, I have one more song, and then we're done looking at the past," Phair said before she closed her set. The tour was over, and another one launches this fall. Nostalgia is one of the most human experiences—the past isn't through with us, as they say—but looking ahead is more powerful. That's what Liz Phair does best.
---
Featured Image: Liz Phair circa 1992 (Photo: Brad Wood)