By Bill Murphy
Relix, October 14, 2021
---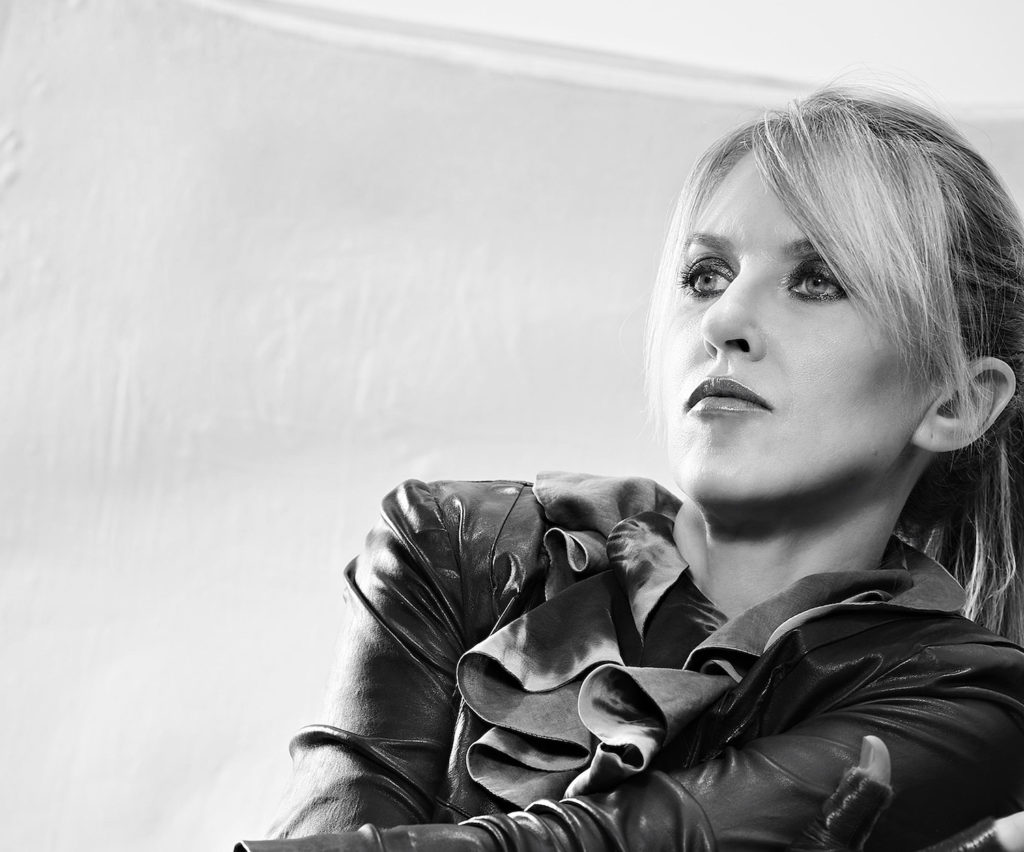 One morning in early 2019, Liz Phair awoke to the stunning news that multiple women had come forward to accuse her rock-star producer—a household name in his own right—of sexual harassment and emotional abuse. Phair was deep into the recording of her first studio album in nearly a decade and had already committed two years of her life, as she recounts in her memoir Horror Stories, to an intense, if not chaotic, collaborative partnership that reaped as many setbacks as it did rewards. With her reputation on the line and the press clamoring for a statement, she took the only path she could: scrap the new material and start over.
Looking back on it again today, Phair is quick to point out that, despite the disappointment of bailing midway through an album—an especially tough move for an artist who invests so much of herself in her music—she knew she could find her way past it. "It was nowhere near as disruptive, or emotionally scarring, to me as it was to the other women who spoke out and had more entangled stories to tell," she says. "But it was something that held me in limbo for a while. I needed a breather to plant my feet somewhere new and decide what I was gonna do because it was still an emotionally draining process."
The answer turned out to be right in front of her. A year earlier, the Matador label had released a 25th anniversary box set of Phair's 1993 indie-rock classic, Exile in Guyville. She'd kept in touch with Guyville's producer, Brad Wood, in the years since they originally recorded the LP. And in 2000, when she moved to Los Angeles—where Wood and his family had also relocated—their kids became friends and their family lives became further intertwined. "But neither of us ever talked about working together," she says. "That was water under the bridge, you know? He didn't bring it up, and I didn't bring it up."
That is until Wood joined Phair to help curate and promote the box set. "For me, it started with the Song Exploder episode for 'Divorce Song,'" Wood recalls, citing one of the more poignant tracks from Guyville, which Phair and Wood agreed to deconstruct in detail for the podcast founded by composer and producer Hrishikesh Hirway. "We met up at Liz's management offices, and Hrishi interviewed Liz and I. I think that was probably the thing that broke it open. Then, about a year later, [Phair's manager] Joel Mark suggested, 'Do you think you guys might be interested in recording a couple of songs?' And that was really it."
The timing was right, but equally important for Phair was the notion of reestablishing a sense of trust that had been lost. Her former producer—Ryan Adams, for those who haven't googled it by now—had thrown her creative process into a tailspin. As she considered her options, the idea of teaming up with Wood again gradually emerged as the best way forward. After all, he'd more than proven his mettle on Guyville, in large part by making an honest effort to see the world through her eyes—at a time when Phair, barely in her mid-20s, was asserting her voice in a Chicago music scene dominated by men.
"I think the trust issue was very much a part of it," she says. "One of the things that Brad is so good at is validating an artist's instincts. That matters to him. Even if he has no idea where I'm going with it— and really, he's like, 'I don't know what you're talking about. I don't know what that sound is you're describing.' He never doesn't try to follow it. It's like improv. You're supposed to just accept it and then add to it. I don't think I've ever worked with any other producer who does that in the studio."
***
Phair's New Album, Soberish—released in June on the revitalized Chrysalis Records imprint—has been a long time coming, but it crackles with a buoyant immediacy that belies all the soul-searching it took to make it. As open as they both were to rekindling their working partnership, when Phair and Wood first got together at the producer's home-based Seagrass Studio in LA's San Fernando Valley, they still needed to find out where their respective heads were at. So the sessions started, auspiciously enough, with a few days of high-minded conversation about the general state of pop and rock music—and, in particular, one hot song of the moment.
"I literally walked in and, on the first or second day, I said, 'Have you heard "Old Town Road''?'" Phair says.
Lil Nas X's crafty hybrid of cowboy and hip-hop tropes was completely under the radar when he first dropped it on SoundCloud in late 2018. But, by the following summer, the tune had turned into a full-on viral sensation, thanks to a remix and video featuring Billy Ray Cyrus. "Brad's like, 'For real, Liz?' But you know, it's a two-minute song, and it's the biggest song in the country. For me, it was like, 'This is our moment. We can do anything.' Because sometimes it's wall-to-wall formula, and this was not that. This was a breakthrough moment where off-kilter mash-ups and unusual song structure were the look du jour, which, to me, was like, 'Ooh, this is my thing.'"
Wood took Phair up on her challenge. "I'm sure Liz felt like she was forcing me to listen to 'Old Town Road,'" he recalls with a laugh, "but by the time we got in the studio, I had heard it probably 50 times, and I was obsessed with it too because of the phenomenon behind it. Long story short, we talked a lot about that, and it was really to Liz's credit that she wanted to look at current popular music and try to learn from it. The next day, she found a sample of something online. I looped it, changed the pitch, changed the tempo—you know, mangled it—and we just sat there listening to it for a while. She also had an acoustic guitar riff that she'd recorded into her phone, and she was like, 'Can you find a way to make these go together?' The key and tempo were totally different so, in my head, I didn't think it would work. But then I said, 'Give me five minutes.'"
Suddenly, they had the foundation for "Good Side," a groove-heavy breakup song that set the tone for the rest of the album. It opens with Phair singing in a subdued, almost conversational voice as she casually observes: "There are so many ways to fuck up a life. I try to be original." It's a prelude to a vivid narrative full of romance, guilt, regret and a mad dash for the door that recalls "Fuck and Run," Guyville's gutpunch of a kiss-off. Only, this time, Phair offers a more worldly perspective and a hooky chorus—"I'm gonna leave you with my good side"—that lingers tenderly on the positive.
It was just the creative spark Phair needed. "We realized we could do a fresh-sounding record that was surprising even for us," she says. "There are key differences in 'Good Side' that Brad found a way to mash up together, so it's comprised of almost competing elements." One of these is the wintry, low-toned horn break that rears up about midway through the track, conjuring a pleasantly faint whiff of nostalgia that's mirrored in the lyrics. "We wanted surprise and delight, and then obviously emotion," Phair adds. "That song is me saying I'm not gonna be sad or miserable about it. I'm gonna be like, 'You know what? That was a good night, and I'll leave it there. It's not gonna get better than that. I can see down the road that we're probably not compatible, but this is a great me to leave you with.'"
Sometimes it's hard to tell whether Phair is speaking to jilted lovers, irascible critics or directly to her fans; her songs have an uncanny knack for hewing to any situation, fueled as they are by her characteristically personal and vivid revelations. It's a hallmark of her songwriting style, from the gritty confessionals and come-hither taunts of her famed, pre-Exile Girly-Sound tapes to her much-hyped 2003 "pop album" Liz Phair, which pivoted on the catchy, semi-ironic skater boi hit "Why Can't I?" Even 2010's Funstyle, her self-produced middle finger to the music industry—a magnet for derision from seemingly every rockcrit with an axe to grind—still conveys an un-fuck-with-able confidence on songs like "You Should Know Me," "Satisfied" and "U Hate It," running the gamut from hopelessly romantic to hilariously self-deprecating.
Soberish crystallizes everything that's relatable about Phair's music, along with one standout. Despite all the setbacks she endured along the way—including a COVID lockdown that forced her to track a few songs remotely with Wood—it's clear she had a blast making the album. "Hey Lou" is the kicker: a thoroughly whimsical take on how Laurie Anderson and Lou Reed, in their rock-and-roll twilight, might handle the perils and pratfalls of mundane domestic life. (In brief, Reed is always a grouchy handful, while Anderson is the lovingly patient scold.)
There's no word yet on whether Anderson approves, but there's no denying the song's on-point wit.
"I don't think she likes it, or I think I would have heard back," Phair says, "which is too bad because I totally worship her!"
She goes on to explain: "Brad was working on this loop where this artifact had gotten stuck going 'Hee-loo! Hee-loo!' After a while, he's like, 'Check this out, it sounds like they're saying "Hey Lou.''' And we thought it would be so funny if it were a song about Lou Reed—like it was the funniest thing, with Laurie looking at Lou like, 'What have you done now?' So I grabbed a pencil and started writing down lyrics. Brad came up with the classic line, 'Who is that fool in the den?' [Laughs.] It was our first-ever song collaboration, and it was so spontaneous. It just flowed, after two different tries at getting it right."
***
Soberish shines with plenty of happy accidents like these, but Phair is also keenly aware that, in the studio, you make your own luck. A practiced hand herself, with several years as a score composer for television under her belt, she can run with a drum beat that emerges from a random sample sufficiently "mangled" by Wood. And she can just as easily make the snap decision to wipe her own guitar tracks so a song has room to breathe. Whatever the circumstances, she's at a point in her long career where she's completely at ease in her own skin, allowing the music to come to her and putting in the hard work to capture the sound she has in her head.
"We did carefully consider what should remain and what needed to be added," she says, referring again to the collaborative process she shared with Wood. "I mean, there's not a millimeter of that record where we don't know what every part is doing. And it was that feeling of newness— where we've created something that doesn't quite sound like anything we've really ever heard but that thing that we've created still echoes familiar notes from both of our careers—that excited us. I'm really happy with where we got with that. Whether people take it into their hearts or not, that's a different question, but I'm really happy with, as a production, what we were able to achieve, considering what our aims were."
Album opener "Spanish Doors" immediately captures the feeling. It's apparent in the way that the drums and guitars kick in right when Phair sings, "I don't want to talk about it." The chords change color from minor to major and, suddenly, we're in the early '90s again, when everything in music, and especially rock music, seemed inherently possible. Lyrically, the song is about being trapped in a non-communicative relationship and the inevitable loop of indecision about where to go next. Musically though, the song transcends the dour mood; it's just Phair and Wood in the studio trading guitar parts, with Wood also laying down keyboards, bass and drums. But the sheer jubilant energy they generate as a creative unit can't be overstated.
"I didn't need to rediscover my appreciation for Liz's artistry and her dedication to her craft because I've always felt that way," Wood says, "but it was really cool to rediscover that we had a chemistry. There's still some gas in the tank, you know? I wasn't sure that there was because it's been more than 20 years since we've tried something like that in the studio. So it was really fun to discover that an aspect of our younger selves was still present, with that DNA still coursing through our veins."
There's chemistry aplenty on Soberish, from the nudge-wink admonitions of the title track ("It's about anything that lets you not take reality fully on the chin," Phair clarifies, while copping archly to "my struggle to control my great love of marijuana") to the sky-touching balladry of "Lonely Street," where Phair finds a beautifully wispy falsetto voice to rival Kate Bush or Elizabeth Fraser. "In There," the album's latest single, floats on a synthesized bed of melody and an effects-processed backing chorus that admits: "I can think of a thousand things that are wrong." (It also brings guitarist Casey Rice, a key presence on Guyville and 1994's Whip-Smart, back into the fold.) And on "Bad Kitty," Phair indulges her mischievous streak, riffing on a scathingly funny double-entendre over a stripped-down groove that's made for the highway.
Further on, a hint of R.E.M.'s influence peeks through on "Dosage," replete with jangly guitars and a modulating Stipe-worthy chorus that lifts the song into the joyful ether. Phair and Wood worked on it remotely—one of the last songs to make it onto the album, and a testament to Phair's ability to adjust her creative approach in the face of some stark revelations she struggled with during the pandemic.
"I found it very humbling," she admits, "because I've always been able to rely on my creativity through thick and thin, and I found out that I'm vastly more social than I actually even think of myself as being. Without going out and bumping off of other people, I had so much less to write about, and I didn't even feel like I had my full repertoire. I've always almost been smug about how creative I was, and I found that it's dependent on other people. I need other people to feel creative, and I'm still grappling with what that means because I would have sworn up and down it wasn't true."
Looking back critically on her 30-year career, it would be trite and dismissive to label Liz Phair simply as an empowered woman; she had already waged and won that battle long before she even stepped into the studio to record Exile in Guyville back in 1992. By every metric, she asserted herself on Chicago's Wicker Park scene (a "guyville" of its own that spawned alt-rock juggernauts Smashing Pumpkins, Urge Overkill and Material Issue), and she took on loud dissenters like producer Steve Albini while staking out her place of prominence at the vanguard of feminist rock that kickstarted the '90s. But she's always maintained a universality in her music—an equal helping of uplift, emotion and whip-smart insight that anyone can pick up on if their heart is open.
"I feel like the sparseness of Exile in Guyville has been part of the secret weapon of its longevity," Wood elaborates. "You can parse out the parts, and we had that same mindset. Liz was, at that time, not really excited about layering tons of parts. She would fall in love with a part, a sound, and then want to preserve it. That's the same way she is today. She's got a very strong editorial ear, and she exercised it as a young woman in the studio for the first time in 1991 and '92. And she exercises it even more effectively now."
As she gears up to return to the stage on a rescheduled tour with Alanis Morisette and Garbage, Phair is philosophical about the road ahead—but true to her implacable nature, she can't help speaking her mind.
"Number one, I'm looking forward to Americans getting their shit together and getting vaccinated," she says, "and I'm looking forward to having real life overtake this crazypants situation we've been in, just in terms of psychology. Forget the real danger that's out there. Americans have gone nuts, in my opinion, and they need to come correct. There's a difference between an idea and a belief, and you cannot argue with a belief. What should be just a dynamic of ideas and discourse has become this rigid set of opposing belief systems. And it freaks me out because it seems antithetical to any progress or strength. If I were another country looking at America right now, I'd be like, 'You guys are weak.'
"But don't get me wrong—I'm also looking forward to getting back. I can't wait to play again," she continues. "I just really hope that, by the time we're on the road, at least 250 million people are vaccinated. Let's defeat this monster."
---
Featured Image: Liz Phair (Photo: Eszter+David)