By Phoebe Reilly
Billboard, April 20, 2018
---
Liz Phair knows exactly how she'd like to celebrate the 25th anniversary of Exile in Guyville, her iconic track-for-track riposte to The Rolling Stones' Exile on Main St.: "Getting stoned and listening to them back to back," says the singer-songwriter. Perhaps then, she adds, she can recall precisely how her starkly detailed "Divorce Song" snaps back at the group's swaggering "Ventilator Blues."
At the moment, though, Phair, 51, is sipping water at a Beverly Hills coffee shop on an overcast March afternoon. Despite having steadily enjoyed an outpouring of affection over the years for her gutsy, ingenious 1993 debut, she says today "is not the same old day at the office." That's because she's spending it steeped in nostalgia: On May 4, Matador will release Girly-Sound to Guyville, a box set that includes the first comprehensive collection of Phair's earliest demos, recorded under the name Girly-Sound and restored from original tapes that once circulated among the male-dominated indie-rock scene of Chicago's Wicker Park-neighborhood (aka Guyville). Some of the songs, like casual-sex lamentation "Fuck and Run," made it onto that breakthrough album. Others remain embryonic but still capture her unusual guitar style and deadpan vocals.
"It shows my process," she says, shaking out her halo of heavily sprayed " '90s hair." "People didn't appreciate that the record was as intentional as it was."
In fact, after decades of seeing Guyville cast a shadow over the five albums that followed it, Phair is willing to embrace its complex legacy, which includes playing some shows of exclusively Girly-Sound material in June (tickets for which sold out within minutes). It helps that she's recording a new album — her first since 2010's eclectic, self-released Funstyle — with Ryan Adams, due this fall, which is intended to pay homage to her debut. "Ryan doesn't get a boner unless it sounds like something that Liz Phair from then would do now," she says with a laugh.
But also, she adds, "Guyville [still] feels so important. It's about female empowerment, and I'm ferociously protective of young women right now."
This is well-appreciated by Sophie Allison, aka Soccer Mommy, whose debut LP, Clean, shares DNA with Guyville and who is slated to open for Phair on some tour dates. "Among young female artists, [her album] is definitely a huge thing," says the 20-year-old. "That 'fuck you' to the boys feels relevant. There's still sexist assumptions under the surface."
Phair is the first to admit that while Guyville became an instant feminist touchstone, that wasn't the original intent. Back then, she didn't feel there was as robust a community of female musicians as those she name-checks today: Courtney Barnett, St. Vincent, Best Coast's Bethany Cosentino. In 1993, the frequently stoned Oberlin grad just wanted to prove to her guy friends, Urge Overkill's Nash Kato among them, that she, too, could make music. The result was accessible yet intimidating, a lo-fi, deeply felt distillation of the era. Guyville allowed for the possibility, radical at the time, that a reasonably well-adjusted woman from a Chicago suburb could want to "fuck like a dog," as she famously declared on "Flower."
"She didn't have some tragic persona," says Guyville producer Brad Wood. "This was your kid sister expressing thoughts and desires candidly. The reason people are coming back to it has everything to do with Liz."
The cult of Guyville raised the bar dizzyingly high. Subsequent albums, like 1994's Whip-Smart and 1998's whitechocolatespaceegg, felt like a logical maturation, featuring songs from the Girly-Sound tapes, but neither was deemed as singularly powerful. By the time she released her self-titled LP in 2003, riding a populist wave to work with Avril Lavigne's production team The Matrix, critics were practically writing her obituary. "I spent a year giving therapy to interviewers who were really upset and angry," says Phair, rolling her eyes. "Like, 'Just don't buy that one.'" But even Phair admits that none of her follow-up albums could rival Guyville. "When I made [Guyville], I had no job, no responsibilities — all I did was sit and obsess about the form of these songs. I have not since been able to get that kind of absolute vacuum."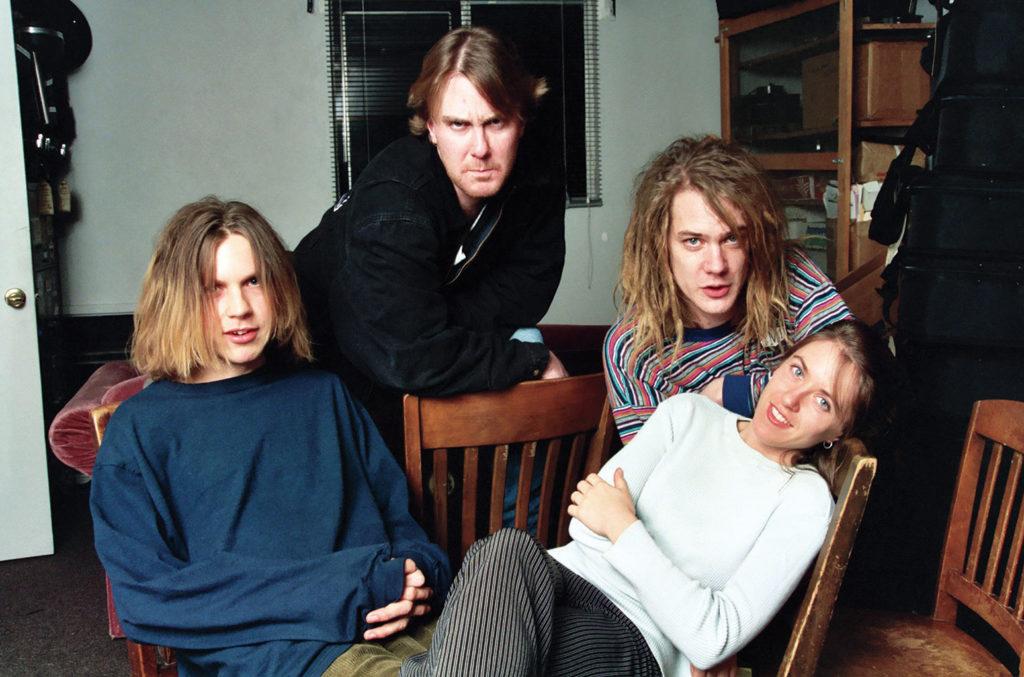 Nor was she as willing to bare herself so explicitly. "Full-time mom-ing did affect my art," she says, referring to her son, Nick, with film editor Jim Staskauskas (the two divorced in 2001). "I didn't want to be on the edge. I was always afraid the PTA was going to stone me." Now that Nick, 21, has left their Manhattan Beach, Calif., house for college, she feels comfortable once again keeping nocturnal hours and bumming around with musicians.
Enter Adams. The two had plans for "a sprawling, good-times" double album, she says, but began paring it down to better fit the current political climate. Still, it promises to be a dream come true for fans. "He's taking Liz Phair, forgetting about the mommy years, and growing her up on this side," she says.
She has also signed a two-book deal with Random House — which will publish the first of her memoirs, tentatively titled Horror Stories, in 2019 — and is developing a TV pilot. Which is all to say that Phair hopes she won't be talking about Guyville again in another five years. "People want me to make them feel the way that they felt then, and nobody can do that," she says. "But in the best sense, they just want me to live up to my potential. As do I."
Three Guys on Guyville
Chris Brokaw, musician
"The original version of 'Girls, Girls, Girls' is seven minutes long and, like, 20 verses. It has power that comes from accumulation. It was like a Bob Dylan epic. By the sixth minute, you're devastated by the lyrics. There's intimacy to the four tracks."
Ben Gibbard, Death Cab for Cutie
"Nobody has captured the feeling of being on an airplane so eloquently as 'Stratford-on-Guy' does: the vulnerability, the imagery of the earth looking like 'a poorly assembled electrical ball.' It inspired me to write [The Postal Service's] 'Recycled Air.'"
Mike Hadreas, Perfume Genius
"I heard 'Flower' when I was 13. I was scandalized. She was singing about things I hadn't already experienced yet, but had developed massive amounts of shame around. There is zero shame, no apology, in that song. It is almost a weapon."
---
Featured Image: Liz Phair photographed on March 20, 2018 at Bibo Ergo Sum in Los Angeles (Photo: Amanda Friedman)